Practical tips for choosing a kitchen table for a small kitchen
Choosing a table for a kitchen is a delicate matter, given that it should look presentable, look appropriate in the interior design and be comfortable in every way. As for large kitchens based on movies, this is solved pretty quickly. A completely different situation with small kitchens, when in a space of 6-7 meters you need to place a table that is convenient to use, looks good and does not take up much space.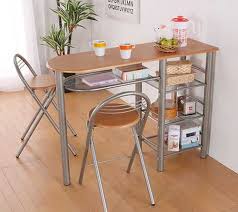 This material provides some advice on how to choose these tables.
Tables designed for small rooms
Made-to-order furniture, including tables for the kitchen, today include a variety of options that allow you to solve the problem of setting the table in a small kitchen. Among them are the following:
glass tables;
table transformation;
folding;
folding;
mobile;
retractable
angle;
bar counters (replacing tables).
Factors Determining Table Selection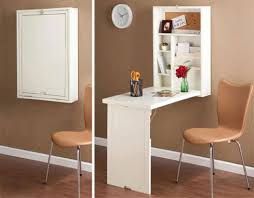 In general, a dining table, and the more compact, should be selected, taking into account how often and for how many people it is designed, the dimensions of the room, etc. Therefore, everything should be thought out very carefully, but first of all you should consider:
number of residents;
tenants sit at the table together or separately;
how often guests come.
Today you can order furniture in Chisinau for kitchens of any size, to meet any customer requirements. But before that, the client himself must calculate the nature of the table's use.
Kitchen table shapes
Currently, furniture production offers tables in various formats, including rectangular, square, round, oval, semicircular. The most popular are rectangular tables, which are easily placed both against the wall and in the corner.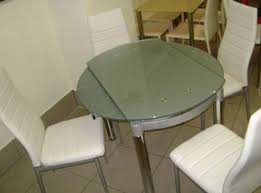 Și mai compact arată o masă pătrată. Mai mult, îl puteți comanda cu un blat rotund, astfel încât să arate bine în mijlocul bucătăriei. Drept urmare, acesta nu va arăta masiv, sporind vizual spațiul liber. De asemenea, trebuie spus despre practicitatea sa, deoarece colțurile nu iese. Și, în sfârșit, se încadrează în multe opțiuni de design interior.
Dacă alegeți o masă semicirculară, avantajul său este că masa poate fi mutată aproape de perete, astfel că va exista mai mult spațiu liber. Pentru bucătăriile mici, un model oval (sau cu un blat de lucru de această formă) este o opțiune bună.
Ei bine, pentru o familie formată din două persoane, o masă de colț este ideală, ocupând foarte puțin spațiu.
Selector de culori
In this sense, the following considerations must be followed:
color should create maximum comfort;
harmony with the colors and shades of the decorative decor of the room must be respected;
find an option to ensure harmony with the colors of the furniture;
in a small kitchen, light colors should dominate (and visually more space, and the table looks more noble).
Table design features
For a married couple, which guests do not visit often, it is recommended to have a table that will simply sit in the room. But if the family has more than three people, or friends and relatives constantly come, it is best to choose a transformer or a folding model (today they are offered at affordable prices). Massive tables in small kitchens are absolutely out of place.
Where is better to place a table
It depends on the size of the kitchen. And if in a large meter-sized room, the table will look great in the middle, then in a small kitchen it is advisable to consider the option of a small table (the same corner or folding), which calmly sits directly against the wall.
If you have any questions about choosing a table for the kitchen, call and our consultants will answer any of them in detail.