Choosing furniture for the corridor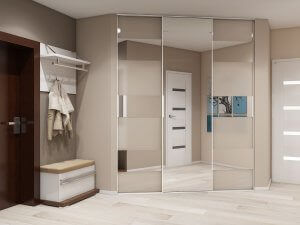 What to consider when arranging a corridor space
In each case, arising from specific conditions, the issue of choosing furniture for the corridor is an individual decision, so any advice should be taken with a certain degree of relativity. In general, the main tips can be summarized as follows:
As a wardrobe we choose a cupboard, built into a niche, and if this is not, then we choose a shallow one. The main advantage of the cupboard is its compactness and large capacity – which is very important in a corridor.
Everything must be closed as much as possible, so that clothes and shoes are not visible and do not attract attention. Therefore, it is advisable to refuse open shelves. But the hanger, on the contrary, you can leave visible.
This option is usually used in a minimalist or Scandinavian interior. Also, this one is very comfortable.
Shoe storage presents a rather problematic subject.
Therefore, it is necessary to separate the storage space for casual and seasonal shoes by creating a shoe area. For example, you can consider special support for it.
Storage of various accessories.
If a ready-made corridor is chosen, then it should have drawers or shelves for storing hats, scarves, gloves, etc.
Of course, these should be compact puffs.
If there is more space, you can put a banquette ("banquette").
And already in the large corridor you can put a sofa, built into the wardrobe.
To visually expand the space, you should put a mirror (perhaps a door with a mirror or a large mirror opposite it).
A good option would be to place a small carpet with a geometric pattern on the floor (stripes can visually lengthen and expand the corridor).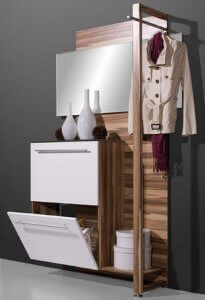 The walls and ceiling should be light in color, because the lack of natural light makes it necessary to compensate it with light shades. As an alternative to white, you can try beige, lilac and others. · And of course, use additional lighting. For example, you can make lighting in the form of lighting fixtures located around the perimeter, and you can also use cabinet lighting.
What should be the furniture itself
There are no questions about what to place in the corridor.
The only question is in the characteristics of the furniture.
Taking into account the compactness requirement, the installation of corner furniture looks like a winning option.
Custom-made corner furniture today allows it to be placed in the corridor as conveniently as possible and thus provides comfortable access to clothes. Modular furniture is perfect for the corridor. If the corridor is square, better to choose narrow furniture. In turn, the wide one can be seen as a universal storage area. If we are talking about the furniture material for the corridor, furniture from the same MDF can be considered acceptable. Hooks and hangers are usually ordered from metal because they need to be as strong and stable as possible. The choice of material is also due to the style in which the corridor is decorated. If we talk about the classic style, then we use leather and wood elements. The same style allows the creation of a decoration with antiques. In turn, the modern style involves the use of tall cabinets with unusual lines. And the most practical option would be modular furniture, which is characterized by ease of assembly and variability of location.
Choosing pieces of furniture for a small corridor
This is the main problem for many owners of apartments built during the Khrushchev and Brezhnev era and other small-sized housing. Most of the time, in such apartments it is not possible to install a large wardrobe and therefore, other items are used, including: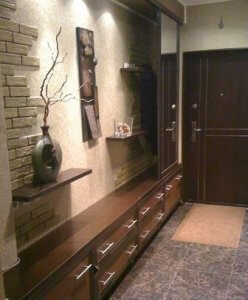 for shoe storage buy small boxes that allow you to keep them behind the door.
wall hooks are used for outerwear;
a panel with coat hooks with a shoe cabinet;
shoe bench with built-in wardrobe.
In any case, by ordering furniture for the corridor, today you can effectively solve the problem of its placement in apartments of different sizes and parameters.