Choose the color and style of the kitchen furniture
Today's kitchen is not only a space for cooking and eating, but also a place where every member of the family should feel comfortable and cozy.
A significant role in ensuring comfort is played by the choice of furniture for the kitchen, its style and color.
And if for large kitchen spaces there is a wide range of choice, then in small-sized kitchens (6-9 meters), which are typical for Khrushchev, Brezhnevka and other apartments of the old series, everything must be calculated to the smallest detail .
And, first of all, the color scheme, which should visually expand the space.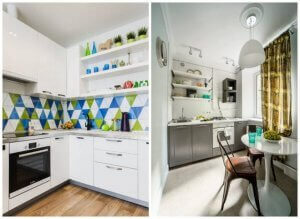 This article suggests that you familiarize yourself with the basic rules for choosing a kitchen set for a small kitchen.
What to consider when choosing a color
Of course, everyone has their own preferences.
But if you need custom-made furniture for a small kitchen, you need to take into account a number of nuances, namely:
general color scheme of the apartment;
color compatibility;
the nature and degree of coverage of the kitchen space;
what a certain color is associated with;
color scheme of the kitchen (floor, walls, ceiling, etc.);
style in which the kitchen is planned to be decorated.
Interestingly, despite the fact that the choice of the color of kitchen furniture is made taking into account the colors of other rooms, the kitchen should stand out in some way. But so that it was not striking, but gracefully emphasized her character and style.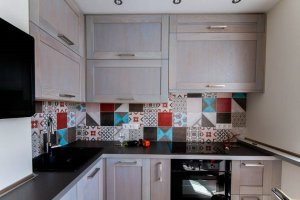 The problem of color combination
To choose the right color, you need to understand how different options can be combined with each other. Despite the trends of mixing styles and neglecting the classical rules, it still remains relevant. The furniture production carried out by our company takes into account the basic requirements for color combinations. The main ones in this regard are the following:
Such a combination of colors, where the main color occupies about 60% of the space (the same walls), 30% acts as a supplement (this color can be used to design a kitchen apron), and another 10 % — accent (chairs, chandelier, etc.).
From cold to cold, warm to warm. This implies that if the kitchen is oriented to the north side, it is advisable to use warm colors that visually warm it (yellow, red or orange). In the opposite case (when the kitchen is bright enough), it is better to cool it down a bit by choosing cold tones (purple, blue, lemon and others) for the furniture. And there is an option that will be equally good in both cases. This is a familiar white color.
When the kitchen unit merges with the walls, it does not seem so bulky that in a small kitchen it is very important.
When choosing light tones for the kitchen, you can consider the option of transparent furniture.
Glass facades and open shelves visually reduce the size of the furniture.
It is also important that warm tones contribute to appetite. Therefore, if the problem of excess weight is relevant, it is advisable to opt for neutral colors (green, blue or brown).
You can order furniture in Chisinau in a wide variety of colors.
There are all options to suit every taste.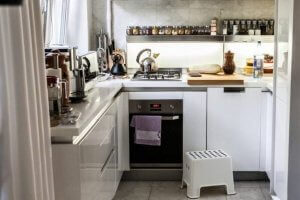 How to choose an interior
In this case, there is no place for an abundance of decor, all kinds of excesses in the form of bent legs of tables and chairs, sophisticated furnishings and the like. In a space of square meters it will look ridiculous. In this sense, furniture in the style of empire, country, baroque or Provence is not an option. Unless there are some simplified (neoclassical) options.
However, for a small kitchen, there are plenty of suitable solutions. Among others, one can note the furniture in a minimalist style or in an eco style. Avant-garde indications (grunge, techno, hi-tech, loft and others) are perfect. The Scandinavian version will also look good.
We have affordable prices for kitchen furniture in each of the styles listed. What is important, in any case, you must try to show your personality. And if you can't decide or are afraid of making the wrong choice, call and our consultants will help you with competent advice.