The nursery corner: a beautiful and functional solution
Furniture that solves all problems
First of all, every child in his room not only sleeps, but also plays, relaxes, does homework in lessons, finally, receives his guests in it. Thus, his room is, figuratively speaking, a room for all occasions. Therefore, it is necessary to properly organize both a sleeping place and a working area, which is not always possible to do, especially if there is clearly not enough footage (for example, in the same Khrushchev). It is possible to efficiently fit all the necessary elements into a limited space if you buy a children's corner with a bed and a table, characterized not only by high functionality, but also by its attractive appearance.
Furniture for children to order
It is certain that this furniture, due to the fact that it includes several different items that are perfectly combined with each other, takes into account the basic needs of the child, simultaneously solves a number of problems and at the same time the material is used effectively, behind which there is much more free space. . It is a children's corner that allows you to conveniently place a bed, a chair, solve the storage of educational supplies, toys, clothes and other items. Today in Chisinau there is the possibility to order a corner that meets all the needs of customers.
Pros and cons of a children's corner
The main advantages of this type of furniture for a children's room are expressed in the following:
differs in the largest dimensions. As a result, a more useful space is formed, including for active games. Thus, the main difference is the high compactness of the corner.
Superior functionality. Today, corners for a children's room are produced, which include all the necessary elements (bed, table, chair or chair, wardrobe). At the same time, what is important, you can choose your own option to complete the corner, which increases in conti
has its value and functionality in each case.
Attractive solution for the interior of the room. The corner of the children's room stands out for its steel appearance, it fits perfectly into any chosen room design, especially when it comes to modern style.
Large capacity. Just such corners make it possible to conveniently place and store everything that a child uses (clothing, school books and notebooks, toys, etc.). In particular, needles
Furniture for children to order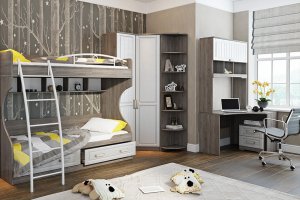 Of course, there are certain disadvantages that must also be considered. These can be considered:
Some difficulties in the process of changing bed linen. But this is resolved, over time, the child begins to gradually get used to it.
Relative difficulties in putting (this is expressed in the fact that if a child suddenly falls asleep in the parents' room, it is somewhat difficult to put him to bed). Considering this aspect, such models are purchased, as a rule, for children over five years of age.
The high cost of some corner models for children. If we are talking about a stylish kit made of expensive materials (the same natural wood), then it will cost a lot. However, there are several budget models, so it is an open problem.
Thus, a children's corner with a bed and a table, the photo of which clearly demonstrates their merits, is an excellent solution for designing a children's room.